Construction of New Khanki Barrage
Khanki Barrage Pictorial View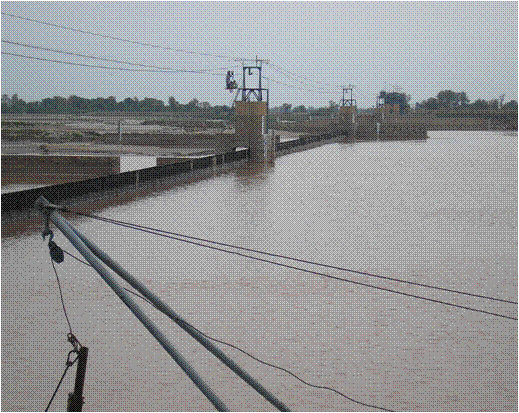 Salient Features of Khnaki Headworks
Location
Year of Const.
Tot. Length/ Clear WW
Des. Q
(cfs)
Off- take (lower chenab canal)
Water Allowance
(cfs/1000 acres)
CCA (ma)
Des. Q (cfs)
Length (Canal Miles)
Main
Branch
Distys.
Total
Sixteen (16) Km
Down stream of Alexandra railway bridge, near WZD, Distt. GWA
1892
4,386/ 3,929
800000
2.84(P)
5.15(NP)
3.031
(Dsitt. Gujranwala Hafizabad, Shiekhpura, Nankana, Faisalabad, Jhang & T.T.Singh)
11,600
40
414
2,399
2,853
Khanki Headworks
Khanki headworks was constructed in the year 1892 and is one of the oldest weirs in the Subcontinent. The weir has deteriorated and outlived its life. A new barrage is, therefore, being constructed at a distance of 900 ft. from the existing weir on the downstream side.
An Overview
The weir was constructed during 1889- 1892
It was the first weir in Punjab founded on alluvial sandy bed of river
It was designed and constructed under conditions of extreme economy
The weir got repeatedly damaged in portions and had to be remodeled extensively during 1919- 1920 and 1933- 1935
The weir originally was a shuttered type weir comprising 8 spans of 500 ft each, left undersluices (12 No. 20 ft each) and canal head regulator (12 spans of 24.5 ft each)
With the extensive remodeling during 1933- 35, the weir now comprises (left to right):

Left Undersluises (12 No. 20 ft. each)
Three weir bays (1423 ft)
Central undersluices (18 No. 20 ft each)
Three weir bays (1545.75 ft)
Right Undersluices (18 No. 20 ft each)

Total width between abutments is 4386'
Waterway is 3928.75'
Identified Problems
Aging effect;
Capacity constraint exceeding 10 times;
Lack of effective control on river regulation;
Inefficient and insufficient physical communication between the two banks of the Chenab river; and
Mixture of several design & construction techniques.
Engineering Studies
The following studies were carried out by renowned consulting firms/ individual consultants:
Safety evaluation (1998)
Feasibility study (2005)
Detailed design (2005-08)
Evaluation of existing headworks (2007)
Recommendations of special committee (2008)
Project Evolution and Objectives
Following the recommendations of special committee, construction of new modern barrage at 900 ft. downstream of existing weir was taken up with the financial assistance of Asian Development Bank.
The objectives of the project are to:
To replace existing 122 years old headworks with new barrage enhancing flood passage capacity from 800,000 to 1,100,000 cfs.
To ensure sustainable irrigation supplies to over 3.0 MA fertile lands of eight districts of central Punjab.
Project Components
New barrage with left and right undersluices;
New head regulator of L.C.C;
Re-aligned head reach of L.C.C originating from new head regulator and joining existing LCC; and
Improvement of roads on both river banks, buildings and other infrastructure.
Page updated on March 02, 2021